In response to growing student need, University Health Services (UHS) is expanding its Survivor Services staff and services to increase access to comprehensive and responsive care for student survivors of sexual assault and relationship violence. This new effort builds upon UHS's response to findings from UW–Madison's participation in a 2019 national survey that examined gender-based violence on campus.  Survivor Services supports student survivors of sexual assault through coordinated medical, mental health, and advocacy services.
Staffing expansion improves integrated approach
UHS is recruiting one full-time advocate and recently hired two full-time mental health providers—including a mental health provider focused on serving survivors of color—to join the current Survivor Services team of four mental health professionals and one advocate. Once fully staffed, the team will nearly triple in size from three providers who performed dual function as mental health providers and advocates in 2019 to a team of eight specialized providers. In addition, the advocacy team has transitioned from UHS Prevention to UHS Mental Health Services to further support the advocates' collaborative work with mental health providers and to elevate the role advocates play in connecting survivors with medical, mental health, and community services.
"When a student experiences sexual or relationship violence and chooses to seek support from UHS, we want to ensure they receive an integrated, trauma-informed, and survivor-centered experience," says Jake Baggott, associate vice chancellor for student affairs and executive director of University Health Services. "The evolution of our Survivor Services unit underscores the importance of this work on our campus."
2021-2022 recap
During the 2021-22 academic year, UHS provided 74 medical appointments for unwanted sexual encounters and 42 on-site forensic nurse exams, through a partnership with DaneMAC and the Dane County Rape Crisis Center. Survivor Services mental health appointments increased by 24 percent with 1,471 individual appointments. Mental health staff also led group counseling sessions and drop-in support groups for survivors. In addition, Survivor Services advocates saw 88 students for appointments and provided more than 100 consultations to students and/or campus community members who chose to remain anonymous.
New director position created
To lead this expansion, Molly Caradonna, PsyD, has been promoted to a newly created position, Director of Survivor Services. Caradonna joined UHS in 2019 and, in 2021, became the assistant director of survivor services with the role of managing mental health services for student survivors. In her new role, Caradonna will direct the integration of care across all three areas of Survivor Services.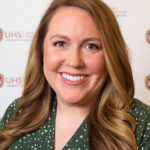 "Molly will work across UHS to ensure that we are responsive to student needs and to facilitate coordinated care," says Sarah Nolan, PhD, director of UHS Mental Health Services. "Molly has been integral in growing the Survivor Services program since she joined UHS, and she will continue to be a committed and thoughtful leader for this service area."
Caradonna's initial focus has been to improve integrative care practices and increase staffing and services, including a pilot support group for queer students at the Gender and Sexuality Campus Center (GSCC) and a survivor-focused section of Let's Talk in University Housing. Looking ahead, Caradonna will work to improve the campus's overall coordinated and trauma-informed response to sexual and relationship violence.
"Every student survivor deserves the opportunity to heal and to continue their education," says Caradonna. "Our team works to support survivors in each step of their healing process. I'm grateful that, with these program expansions and additional staff, we are able to better serve survivors in our campus community. I look forward to continued work with campus partners and student organizations who share our goal of ending violence and empowering survivors on campus."
Connect to Survivor Services
UHS Survivor Services is available to students or to consult with staff/faculty at 608-265-5600 (option 3) or via email at survivorservices@uhs.wisc.edu. Student can also self-schedule an appointment in MyUHS.