MyUHS is the official healthcare app for UW-Madison and offers an additional way to access the secure resources found on the web-based MyUHS patient portal.  Read more about the mobile app here.


Requires Android version 10 or higher to download from Google Play. If you are not able to upgrade to Android 10, use the web version of MyUHS.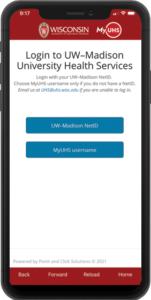 App features
Securely communicate with providers
Schedule appointments, including COVID-19 testing
Check in for telehealth appointments
View lab results
Upload immunization and health history information
Improved navigation and responsive design
How to download and use the MyUHS mobile app
Video: How to download the MyUHS mobile app
Video: How to use the MyUHS mobile app
MyUHS mobile app replaces Safer Badgers
August 5
Last day to use Safer Badgers to access COVID-19 testing.
August 6

No COVID-19 testing will be available on this day. The Safer Badgers app will redirect students and employees to schedule a COVID-19 test in the MyUHS app.
August 9
Badger Badges will no longer be used on campus.
August 13
Last day to return your Safer Badgers device to the DoIT Help Desk, 1210 W. Dayton Street.
Your COVID-19 test history, and past and future test results will be available in the MyUHS app.
You can still log in to Safer Badgers after August 6 but you will not be able to find appointment times.
The MyUHS app will not be used for building access.
If you do not have a smart device, you can schedule your tests online and print your appointment QR code  and bring it to your testing appointment.