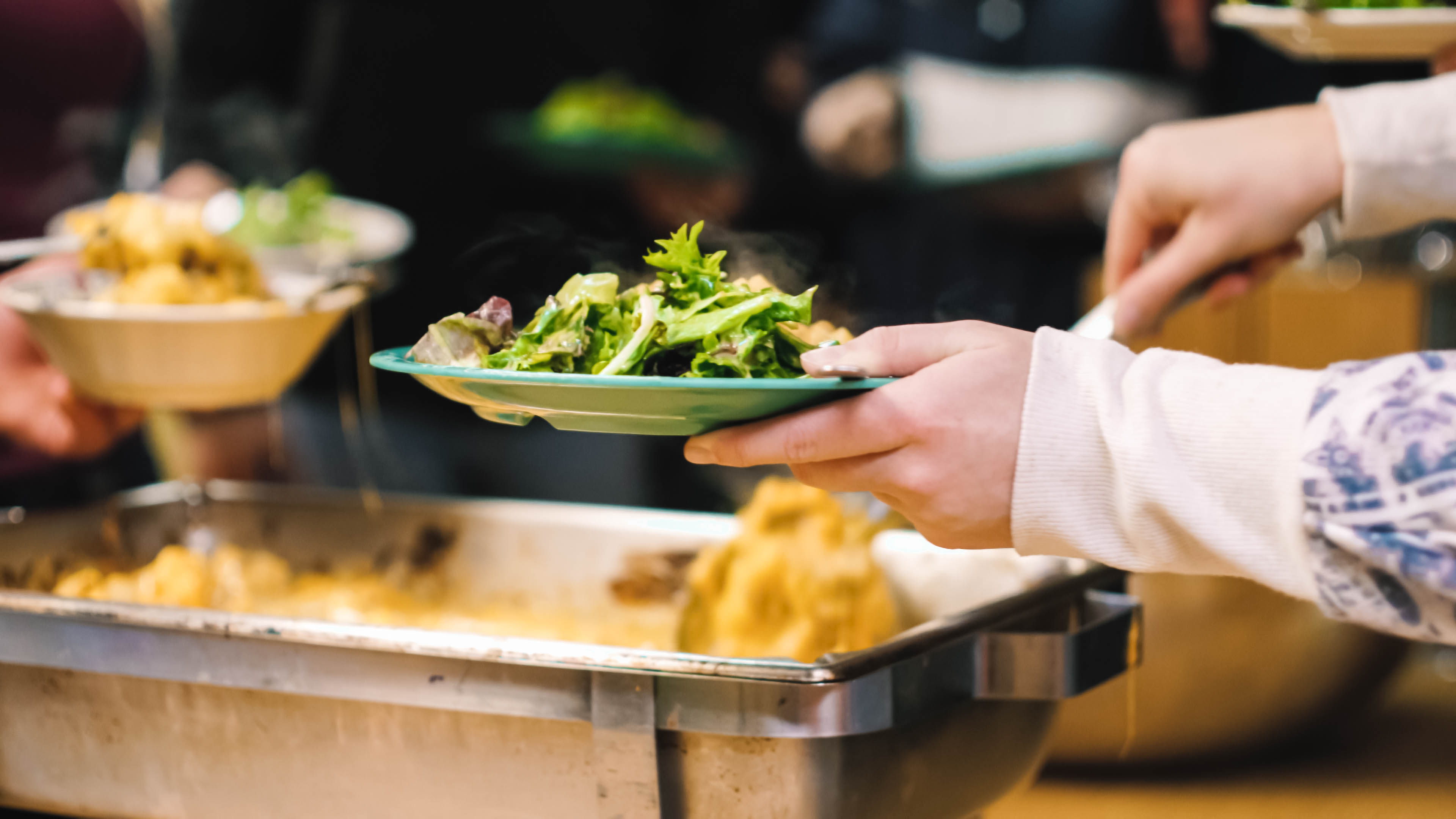 ---
Student food and financial resources
Beyond the costs of tuition and books, day-to-day expenses like food, clothing, and rent can make it challenging for students to make ends meet. The resources and student organizations listed below are available at no cost to all students. There is no requirement to prove need or affiliation with the groups below. For more information on how students can get help with food and financial insecurity, read the Food Assistance Info Guide and Student Food & Financial Resource Guide.
The Campus Kitchens Project
What is it?
A meal prepared by volunteers using surplus food from University Dining.
When and where?
Most Thursdays from 6-7 p.m. in the basement of The Crossing (1127 University Avenue).
What can I expect when I go?
Enter the room and grab a plate! Food is served buffet style. There is no sign-in required and you may come and go as you please. We have to-go boxes to take extra food home!
Contact
Email The Campus Kitchens
The Campus Kitchens on Facebook
Food Recovery Network-Free Student Lunches
What is it?
Surplus food from University Dining recovered by the Food Recovery Network and served by The Crossing and volunteers to fight waste and feed people.
When and where?
Tuesdays during the academic year from 12:30 – 1 pm (not held during Spring Break) at The Crossing. We recommend you arrive early because the line can get long.
RSVP to the Facebook Event.
What can I expect when I go?
You will serve yourself buffet style. Come early before the food runs out!
Contact
Email Crossing Free Lunch
What is it?
Refrigerators with produce for anyone to take...for free!
When and where?
During the growing season, refrigerators are housed in the Horticulture Building and Student Activity Center.
How do I use it?
Take what you want.
What can I expect when I go? 
A refrigerator with free produce.
Lutheran Campus Center Lunch
What is it?
A free, nondenominational lunch.
Where and when?
Lunch is served Monday through Friday from 11:45 a.m. to noon during the semester at the Lutheran Campus Center, 325 N. Mills Street (next to the Chemistry Building).
What can I expect when I go?
Walk into the Lutheran Campus Center and follow the line into the kitchen area. It's recommended that you arrive at 11:45. The food is served buffet style.
Contact
Email Lutheran Campus Center
Lutheran Campus Center Website
What is it?
A three-course, delicious, locally sourced meal for $3. The menu and the link to purchase a meal is available on the Slow Food UW Facebook page. Click the Family Dinner Night event and select the "Community Meal" option.
Cafe Pay it Forward: Sometimes people donate money when they buy their meal. This money is set so that everyone is able to enjoy the food regardless of ability to pay.
When and where?
Community Meal: Every Monday from 6:30-7:30 p.m. in the basement of The Crossing (1127 University Avenue).
Cafe Pay it Forward: Drop in Wednesdays anytime 11:30 a.m. to 1:30 p.m. in the basement of The Crossing.
What can I expect when I go?
Community Meal: A sit-down style dinner featuring a community organization or local check. Check in at the desk and find a seat.
Cafe Pay it Forward: Check in at the desk and tell the cashiers you would like to use a Pay it Foward meal. Give your name and order, and find a seat. Your name will be called when your order is ready.
FH King - Harvest Handouts
What is it?
Harvest Handouts offers free, fresh produce to students
When and where?
Fridays from May to October at 1 p.m. on East Campus Mall.
How do I use it?
Just show up (we recommend you bring a bag with you).
What can I expect when I go? 
A line forms based on a first come, first serve basis and produce is offered until it runs out.
What is it?
The Open Seat is a student-funded, student-run, and student-serving food pantry by the Associated Students of Madison. All students with a Wiscard are eligible.
When and where?
Mondays 5-7 p.m.
Fridays 10-11:30 a.m.
Located on the 4th floor of the Student Activity Center, Room 4209.
How do I use it?
Students can come to The Open Seat during any of our open hours or by appointment. On the first visit, students will be asked to provide their Wiscard, complete two forms, and sign-in. Students may select items that add up to their allotted points per visit. Students are allowed to use the pantry once per week.
What can I expect when I go?
A variety of non-perishable food items including canned vegetables and fruit, beans, pasta, cereal, oats, snacks, and more. The Open Seat also offers personal care and hygiene products, menstrual products, bread, and select fresh produce.
Contact
Email The Open Seat
The Open Seat on Facebook
The Open Seat website
Badger Food Assistance Resource for Emergencies (FARE) connects students who are dealing with temporary and/or ongoing food insecurity with campus and community resources for long-term support, while providing them with funds that they can immediately use to purchase food on campus. Badger FARE provides students with a $25 meal card for the Unions and information on long-term resources. There is no application for students to complete and the gift card amount does not need to be repaid. Students struggling to afford food can connect with the following campus personnel to obtain the $25 meal card:
The Dean of Students Office provides individualized assistance to students facing food insecurity, including information about campus and community resources and crisis loans/grants. We encourage students to reach out in person, by phone at 608.263.5700 or by email to dean@studentlife.wisc.edu.
What is it?
Helpful harvest provides free groceries for those in need through online ordering and easy pickup. 
If you are worried the groceries you have won't get you through the month or if you are willing to deliver to a family member or friend in need, you ARE qualified for Helpful Harvest.
 All you need is your order confirmation number to pick up your groceries. Nothing else is required and your groceries are completely 
free
.
Where, when, and how?
Detailed locations, times, and pickup instructions can be found on the
Helpful Harvest website
!
---
Lutheran Campus Center offers FREE lunch for all students!